Streamline Your Hiring Process:
Advertise Faculty / Staff Positions and Manage Job Applications in One Place
For Employers
Trusted by College and University HR and Higher Ed Professionals
Post jobs instantly (no limit on ad length)
Target highly qualified candidates
Manage postings and monitor your ad performance
Search Resume Database
Cross-post your job ads on multiple job sites
Reach a large number of qualified candidates.
Sign Up Now

The Best Value: Advertising Your Jobs on Multiple Premier Job Sites

Post a Single Job: $225 USD for 60 days
You may cross-post your jobs on following job sites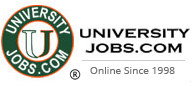 UniversityJobs is the leading job board for college and University faculty and staff recruitment.
$225 USD

PostdocJobs.com is the first and #1 online service to recruit postdoctoral fellows and researchers. Serving postdoc community since 1999.
$225 USD

ScienceJobs.org is a premium solution for recruiting science faculty and other science researchers.
$225 USD